How to Identify a Brown Recluse Spider
How to Identify a Brown Recluse Spider
---
The brown recluse lives in the southeast region of the United States and has well-established populations in Alabama, Arkansas, Georgia, Illinois, Indiana, Iowa, Kansas, Kentucky, Louisiana, Mississippi, Missouri, Ohio, Oklahoma, Tennessee, and Texas.
Although it is possible, it is highly unlikely to see a brown recluse outside of this region. Other recluses are found in different locations, including the desert recluse in California and the Mediterranean recluse spider of Hawaii. Brown recluse spiders have a necrotic venom that can cause tissue damage around the bite area, including inflammation, lesions, blisters that might require medical attention.
The body of a brown recluse spider is usually approximately .25 - .75 inches long. Brown recluse spiders have a sandy brown body with a slightly darker marking on its center. Some color variations can also be darker brown or slightly yellow. Brown recluse spiders have solid color legs, sometimes lighter brown than the body with no additional markings. If the spider has stripes, dark legs, or color variations on its legs, it is not a brown recluse.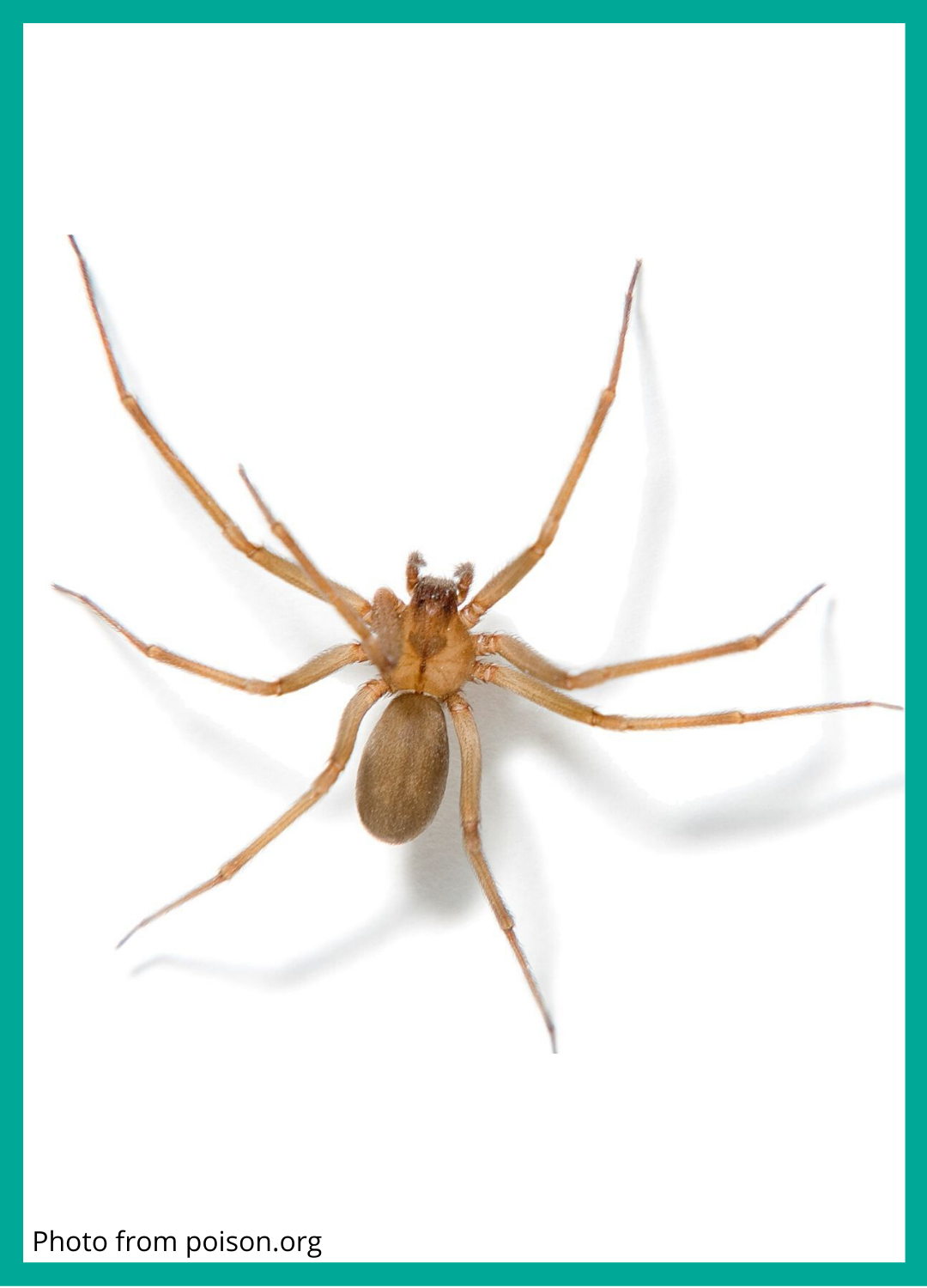 ---
---
The body, or cephalothorax, of the brown recluse, has a slightly darker brown marking that resembles a violin shape. This marking is slightly darker than the rest of the body and can be seen when looking at the spider from above. Brown recluses also have only six eyes, unlike others who usually have 8. The brown recluse has three pairs of eyes, with one pair located in the center of the head and the other two pairs located on either side of the head. That being said, the eyes of a brown recluse are very small and often difficult to see, so use extreme caution if you are looking closely. You might also need a magnifying glass to see the eyes clearly.